Given the crippling shortage of gas, and the fact that India imports 25-30% of its needs at $12-15 per mmBtu even today, the petroleum ministry will recommend a hike in prices paid to local suppliers such as ONGC, Reliance Industries (RIL) and Cairn. The move is in keeping with the December 2012 recommendations of the Rangarajan committee. Based on the formula, today's price will be in the $8.50-9 per mmBtu range.
While the UPA notified the decision on January 10, it was not implemented after the election process began. Implementing the Rangarajan formula is the top item of the presentation to be made by the petroleum ministry to Prime Minister Narendra Modi any time over the next few days. "Perhaps we may have to go to the Cabinet," a ministry official said. "We would have more clarity by Tuesday."
Though a gas price hike has been opposed by many on the grounds it will raise electricity and fertiliser prices, this is only partially true. For one, of the biggest beneficiaries of a price hike will be the government which will get more royalties/cess, so the government can partially subsidise the affected sectors.
Also, India's gas imports are estimated to rise from the 25-30% levels now to 42% in FY17. Even though GAIL's gas from the US is priced at the Henry Hub price of $4.50, once liquefaction, regassifying and transport costs are added, the price will be $11-12 per mmBtu.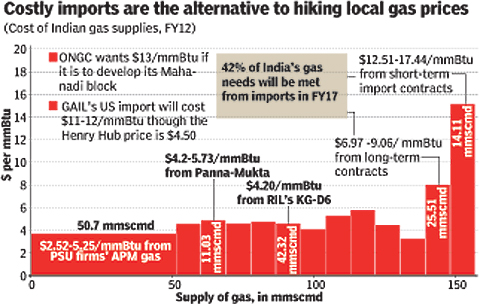 Paying local producers even $9-10 will be cheaper than importing gas, which is the only other alternative. A study by global consulting firm IHS Cera says 85% of India's natural gas is viable only at prices above $10 per mmBtu — ONGC, for instance, has asked for a price of $13 if it is to develop its Mahanadi block.
If gas prices are raised, an investment of $15-20 billion can be expected over three to four years — RIL, which has filed an arbitration case against the government for not implementing the Rangarajan formula, has itself committed to investing $8-10 billion over three to four years.